THE POETRY OF LUISA LEWIS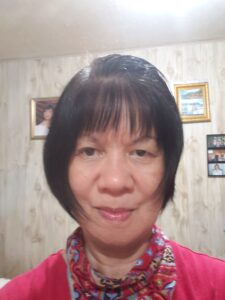 Luisa's poetry ministry began when she was asked to write a tribute for a loved one. Now she regularly writes and delivers her poetry to the congregation to edify, encourage and exhort.
Here are a few of her beautiful poems that we would like to share with you. Enjoy!
God Wants Us To Worship Him His Way
God wants us to worship Him His wayIn spirit and in truth always
Our faith and full trust in Him alone,Though we don't see Him on His throne.
He wants us to shun manmade idolsLike graven images: they're falseThey're creation, not the CreatorIt's only God we should adore.
In sinfulness, we want our own wayWe're creatures of the night, not dayOur pride, at God's feet we should submitWith respect the Highest One, treat.
God's commandments, when we don't obeyShows disregard; we go astrayAway from the path shown in His WordWe want ourselves to be as lords.
Disobedience points to self-worshipWe don't want God in our life trip
We want to show that we are able
There's no need for His name to call.
Worst, most don't believe God does existThey just want their own selves to please
Repent, you who are disobedientYou cannot escape God's judgment.
Ezekiel 18:2
"Do I have any pleasure in the death of
the wicked," declares the LORD God,
"rather than that he should turn from his ways and live?"
Luisa Lewis
September 30, 2022
Love and Revere God Above All
How to approach a Holy God?

With utmost respect and love!

He created the universe

It's fair that we put Him first.

How do we love God above all?

Failing to do this we fall

Without His help we can't do it

He helps us as he sees fit.

How can we show that we love Him?

Obey Him and not our whim

Seek His face, read His Word daily

Go do, and not hear only.

How can we aptly worship God?

We focus our thoughts above

Let's give Him our best all the time

To disrespect Him, a crime.

How do we live for Him everyday?

Trust Him fully and not stray

in facing trials don't worry

God wants us to be happy.

How can we serve God faithfully?

Show folks we love Him truly

Live our lives be true witnesses

Of His love and faithfulness.

John 15:9-10

As the Father has loved Me, so have I loved you. Now remain in My love. If you keep my commands, you will remain in My love. Just as I have kept My Father's commands and remain in His love.

Luisa Lewis

November

11, 2021
My Fervent Prayer for the World
Thank You, Lord for the world You've made
Your wonders are awesome, great
Thank You for the hard times we're in
You want to change us, within.
I pray that people will seek You
May You let them know You're true
You're all powerful in all things
We're nothing, finite beings.
Let us see Your sovereignty
To Your will may we agree
Help us not to trust in ourselves
Put to death our sinful craves.
May You extinguish our idols
Self, our jobs, things we extol
May we spend our days for You
From stadia, sloth, us unglue.
Help us see we're going to hell
Send someone who will us tell
Each person needs to let You in
Accept Christ, Who saves from sin.
May You draw people to Yourself
We sinners need all Your help
May we all worship You alone
Only You reign in hearts' thrones.
In this world locked down may we see
To do Your will You are free
To Your power may we submit
Soul, heart, body, head to feet.
May Your name by all glorified
In every nation, worldwide
In the name of Jesus I ask
The name everyone should trust.
Are you troubled with what's happening?
You fret so you have stopped singing
It's like there's no way out of all these
In your heart there is no real peace.
Everything happens for a reason
God allows things with a mission
It could be you have forgotten Him
You're focused on yourself, your whim.
You have set your heart towards idols
Hanging upon your mind, soul's walls
To God you never pay attention
You rely on self and notions.
May be you think He doesn't exist
On your own, life seems like a bliss
When troubles arise you seek His face
You only shrug your erring ways.
God is in control: He's loving, just
To right wrongs for Him is a must
He exacts judgment on all who sins
He knows whose we are from within.
Give it up, commit your life to Him
Without Him you're nothing: life is dim
You've no control of your own destiny
Cling to Him for eternity.
What God Promises, He Fulfills
God promised Joshua victory
When to Jericho they came
The Commander, God Almighty
Made enemies' hearts fear, lame.
All Joshua, Israel had to do
Was to obey God, believe His Word
They crossed Jordan River, true
God's power made a dry road.
Jericho, a two-walled city
Seemed mighty hard to conquer
God's people turned to Him truly
And He met them where they were.
God made a promise long ago
When to sin first humans fell
For He loved humanity so
A Savior will conquer hell.
He sent His only Son to earth
Made Himself a sacrifice
A God-Man through virgin birth
When we trust Him, we're made wise.
What God promises, He fulfills
All of your battles let God fight
Trust His timing, His good will
He's faithful, perfect in might.
Joshua 23:14… Deep in your hearts you
know that every promise of the Lord your God
has come true. Not a single one has failed!
Luisa Lewis
April 7, 2022
Be Gentle to All Those You Meet
In our walk with Christ, we do need
God's word daily to read, head
It corrects us from sin, mistakes
Lovingly, for Lord Christ's sake.
Be gentle to all those you meet
Be like honey, always sweet
Do you get upset very soon?
Prefer to go to the moon?
When you know that you are in the right
Do you fell like you want to fight?
Do you speak kindly with gentleness
Or you see red, totally stressed?
This may be just a little thing
But to sin it gives a wing
How soon can you others forgive
Why just not let your heart bleed?
It's not so hard to memorize
God's word so we will be wise
Remind ourselves the world watches
If we do what God's Word says.
Take note we should be dead to self
Dead people can't help themselves
Don't return the hurt given you
Pray to Him, Who judges true.
May God give us presence of mind
In situations to be kind
May His Spirit cause us to be
Vessels of humanity.
And the servant of the Lord must not strive , but be gentle unto all men, apt to teach, patient.
2 Timothy 2:24
Luisa Lewis
March 16, 2021
God Bless You Missionaries And
The Work You Do
May God bless you and the work that you do
Helping folks to know His love so true
How He sent His Son to die on the cross
He loved and sought us, we who are lost.
You may be stationed in a foreign land
Where you rely on God's power, plan
You're away from your loved ones; you don't mind
Your life's purpose is with Him aligned.
For us who can't go, you're our hands and feet
The spiritually dead's need you meet
You have become our mouths and our voices
Teaching those come to faith, sins confessed.
You have learned their languages through hard work
Adapted customs, new things uncorked
Bereft of life's usual little comforts
But He Who you serve is all the worth.
For most people, you have the greatest joy
Of seeing folks saved from Satan's ploy
You obey gladly the great commission
So grateful for your own salvation.
Your remuneration may not be much
But your treasures are the souls you catch
You're heaping up riches in God's kingdom
When all have heard, the Lord will soon come.
We're praying for you, dear missionaries
On God's goodness may you always feast
May He protect you from harm and danger
With evil in the world, God's greater.
April 27, 2013
We all serve someone or something
The self, life partners, or kings
The sun, moon: list long, many.
Serving God for self gain is wrong
Our motive should be God-aligned
The correct reason must be two-pronged
it's duty: us He designed.
We're created for God's glory
Contentment not from things, specie
Found in God himself, not toys.
We serve God through our obedience
Not by things we do for Him
By loving Him, others, makes sense
Him we obey, not our whim.
We must serve God wholeheartedly
Not by force or compulsion
Do it humbly and joyfully
Nor for prize, compensation.
As human, Jesus came to serve
He is mankind's sole model
He gave His life ours to preserve
Let's obey to serve Him well.
For even the Son of man came not to be ministered unto, but to minister and to give His life as a ransom
Behold, to obey is better than sacrifice, and to heed than the fat of rams…
Let's Be Thankful For what We Have
Let's s be thankful for what we have
We have God and His great love
He wanted us to be content
what we have to us He lent.

We pine for things we do not own
Like a house with a great lawn
We wish we are like our neighbours
Who are rich and great favours.

We frown at our little hardships
We grumble at our long trips
We're not happy when we're sidelined
We think fate has not been kind.

Let's be honest with ourselves
Some thing could not just be helped
Life's full of trouble but God's here
Let's trust Him and have no fear.

God wants us to have thankful hearts
although we have half-filled carts
He promised to be with us always
We can smile through dreary days

Remember the world is watching
They see who We are trusting
By the way we act in hard times
May our faith boggle their minds

Keep your lives free from the love of money
and be content with what you have,
Because God has said, "Never will I leave
you: never will I forsake you."
Hebrews 13:5

Luisa Lewis
November 26, 2021